Recess: School's Out

A pretty good movie for young ones to watch. Especially elementary school age. I thought that this movie was funny at times and did a good job of showing children how teachers and students are not really on opposite sides. I thought the part where the boy TJ ran into the sliding glass door was the funniest part. A good movie for children to rent and watch.
Fantasia 2000
When it comes to music and animation I thought that this was nice to watch. I think that it would have been really enjoyable if all the animations were of Disney characters. I found the two most enjoyable pieces, the ones that had Donald Duck and Micky Mouse. What would have been ideal would be to have some of the newer Disney characters be the actors in this animations. Then it would truly be a modernized Fantasia and really enjoyable.
George of the Jungle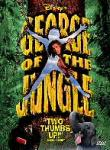 I thought that this was sort of a rediculous Disney movie. I thought that it almost seemed like an Ace Ventura movie except a lot less funny. It doesn't really surprise me because it is not unusual for Brendan Fraser to make flop movies. I think that kids might like it a little bit but for the most part I think it would have worked a lot better as a comedy for a little bit older crowd. They would have just needed to work on the comedy.
The Flintstones

A movie that I just can not really seem to find much of an audience for. I mean they try to have some sexual attraction between a very modern Halle Berry and a very old school John Goodman. I thought that the casting in this movie was by far the best part of the movie. The characters fit the actors and actresses almost perfect. Too bad they couldnt do too much more with the storyline.
Pocahontas

I thought that this movie was a little different then most Disney movies. This one I really didnt like as much because for the most part Disney movies usually have a little more comedy and this is more of a love story. I thought that the comedy characters in this movie, the animals, were terrible comedy characters. The love story was okay but it did not really grip you like in some of the Disney movies. It could have been a little more emotional.
Sister Act 2

I thought that this movie was the ghetto version of the original. I think that they tried to duplicate the exact same movie instead of bringing out an original idea. This movie almost seems like the kind of movie that would be a made for TV movie and not one that actually went through the movie theaters. Not nearly as good as the original but with some mild laughter. Sort of like Sister Act meets Dangerous Minds.
The Princess Bride

A fairy tale type comedy about a girl who is supposed to marry a man who she does not love. This man is royalty and she is kidnapped by three men who are looking for ransom. She is then rescued by her real love and his love is tested as he tries to win her from the king. I thought this movie was lightly funny and may be a little to dull for young children but older children may find it fun to watch. And wrestling fans has this movie starring Andre te Giant.
Tarzan

I thought this was a pretty good movie for kids. I thought that it was a great idea to mock the original movie and in an animated way where Tarzan could be so athletic. I really liked how Tarzan did not really fit in with the apes but continued to live with them and prove that he was an ape because that is who raised him. This is a movie that is mainly for kids as their are not many things in the story that are adult based.
A Bug's Life

I thought that this movie was okay but sort of a step down from some of the other great children's stories of this time. I could not put it in the same league with movies like Shrek or Toy Story. I thought that a Bug's Life had good animation but just lacked a little something. I would compare it a lot to Chicken Run but Chicken Run may have even overdone this movie. It was okay and good for children but it just didn't have that little something extra.
Big Top Pee Wee

This is the second of the two major movie starring Pee Wee Herman. In this movie Pee Wee joins the circus and has numerous adventures with the different characters in the Big Top. I thought this movie was OK but was not as good as the original Pee Wee Herman movie. Big Top Pee Wee still has its moments though. This movie is one that you can watch and still find interesting in just about any age group. You can outgrow Pee Wee but if you liked him when he was hot it takes a little more time.